Your Van Collected & Recycled Free Legally & Professionally
It is estimated that 70,000 vehicles do not meet the London LEZ standards and will be taken off the road and recycled. Scrap Car London will scrap your van legally and professionally and you have peace of mind that your van will not be driven again in the London Low Emission Zone.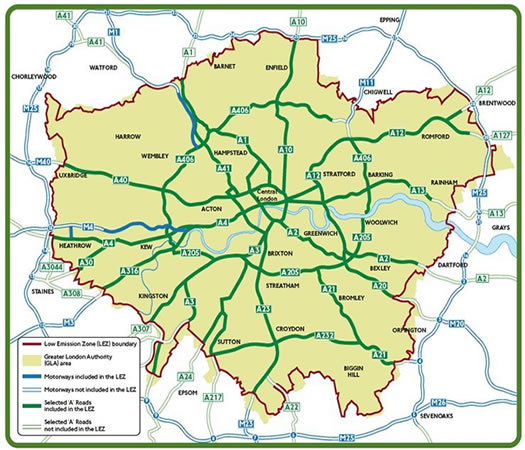 You are probably aware by now that the new London Low Emission Laws came into force at the beginning of January 2012. If your vehicle is non compliant and won't meet the Euro III and the new Euro IV standards, you will not be able to drive it in the LEZ.
Avoid The Fines And Penalties - What can you do?
The last thing you want is to sell your van to somebody that could be dishonest. It may be that they will sell the van on to somebody and will not de-register it with DVLA from your name and possibly drive it in the LEZ. The fines are astronomical (£100 per day) and you will have to prove that you sold it to XYZ and wasn't you who drove the van. If in doubt, pick up the phone and give us a call on 07775 866969 . We will be more than happy to discuss any questions you may have.
Free Collection & Disposal In London Including The
Low Emission Zone
It's also worth pointing out that some companies may offer you cash for your van and then charge you for the collection if you are within the London Low Emission Zone. Our collection and recycling service is totally free because all our Company vehicles are compliant and meet the Euro III and the new Euro IV standards.
Contact Us Today For The Free Collection Of Your Van - Call 07775 866969
Before you hand your van over to us for recycling, we will talk you through the paperwork, complete all necessary sections of the V5c Registration Document, and answer any questions that you may have regarding the disposal and recycling of your car. All vehicles collected by Scrap Car London are taken for recycling and do not go back on the road. It is our company policy to de-register your van and issue you with an official DVLA Certificate of Destruction
Polite Note: Sorry we do not stock or resell car spares
Please be aware that we do not stock or sell used car spares or parts. We offer a realistic cash sum for your car or van and a hassle free professional collection and recycling service with no hidden costs. A cash amount is offered for your vehicle regardless of the condition. Some Companies may offer cash over the phone and then deduct an amount for Admin charges or Low Emission Zone Charges. Our 'over the phone' price is guaranteed and we pay cash on collection.